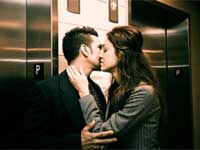 Most of us may coy to exchange a steamy kiss on the lips in the midst of a crowd. It may be due to our social norms, spiritual beliefs or just anything to make us believe in making love just in a dark warm closet. But, for some couples when overwhelmed with sexual desire, they don't even care about the place they end up romping in.

A latest study has revealed the weirdest of places where lovers have been caught getting into steamy sessions, which include canal path, police station and even a church.

Here are some of the very unlikely places that couples have been spotted making it out-

Canal Path— Scots Gareth Black and Clair Muir were caught sharing a moment of passion in broad daylight by policeman on the bank of Falkirk's Union Canal. It was the locals who called the police after spotting them from their windows.

[an error occurred while processing this directive]

On CCTV— A worker at Newcastle's Rural Payments Agency was fired after a CCTV camera caught him having sex with a colleague in the office toilets and running around their desks naked.

Church— When Italian cops were called at a church in the northern city of Cesena, they didn't know what kind of worshiping they'll encounter— a 31-year-old labourer - and his 32-year-old female teacher partner were having oral sex inside for an hour.

Crane—Construction worker Justin Dunn was accused of having "sexual relations" in a crane by cops who were called to the scene. However, when the 23-year-old came down with his 35-year-old partner, they denied of doing anything naughty in the air.

Tram Stop—When a British couple was getting bored waiting for their tram, they got a rather raunchy idea—the 29-year-old woman and her 17-year-old toyboy got naked and started having sex in the street. Cops came after a CCTV camera in Croydon, South London alerted them about the cheeky happenings.

War Memorial— A French couple received a four-month suspended jail term after getting caught making a porno at a World War I memorial.

Police Station— Cops found a tipsy American couple— Dennis Cullen and a lady friend—making love in a vehicle in the car park of a police station.