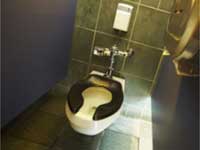 A Thai school has added a third option to the standard'boys' and'girls' bathrooms' a'transvestite toilet'.

The Kampang School unveiled a unisex restroom designated by a human figure split in half' part man in blue and part woman in red with words "Transvestite Toilet" written below, after 200 students said they considered themselves to be transgenger.

Although most rural Thais are conservative in many ways, the initiative at the school reflects Thai society's tolerance for transgender communities. "These students want to be able to go in peace without fear of being watched, laughed at or groped," the Telegraph quoted school director Sitisak Sumontha, as saying.

[an error occurred while processing this directive]

He said that transgenders who opted to use female lavatories made some of the other students uncomfortable, and those who chose the men's room often were harassed.

"They don't have problems with transvestites but going to the same private area, like a toilet, makes them uneasy," he said. "The transvestite kids may behave even more effeminately than the girls do, but their anatomy is still like that of a boy," he added.