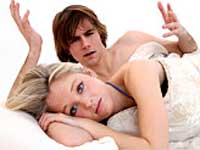 One-fourth of women above 35 years never make love. Most of the middle-aged women consider love making as a thing of the past.
Generally barren women enjoys more orgasm than moms. But the moms with one child, have the sexual satisfaction when compared with the ladies having two kids.
Women who do part time jobs, also have more orgasm than the full time workers. The anxieties about the menopause and the depression problems related to that also affect their sex, adversely. Majority of women suffer from the health problems since they think it embarrassing to seek somebody's help for that.
'The Secret Guide To Women's Health', the survey conducted by Sky Real Lives in UK, found these aspects. It also became a platform for discussing the problems of the middle-aged women.