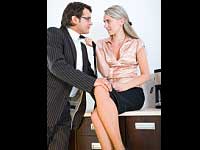 Flirtatious conversation, careless touch and coy eye contact are not the only ways of seducing your target. A study has proved that voice also plays a major role in seduction.
"We found that both sexes used a lower-pitch voice and showed a higher level of physiological arousal when speaking to a more attractive opposite-sex target," said Susan Hughes, professor of psychology.
It was earlier believed that women raise their voice and play with the modulation to send 'flirtatiousness' signals. But it is proved wrong, as the new study has witnessed that a low voice is used by females.
"There appears to be a common stereotype in our culture that deems a sexy female voice as one that sounds husky, breathy, and lower-pitched. This suggests that the motivation to display a sexy/seductive female voice may conflict with the motivation to sound more feminine," she said.
Female voice manipulation suggests that altering their tone may be a learned behavior based on sexual voice stereotypes rather than actual vocal characteristics of attractiveness.
A husky, low voice is related to the sexual attraction of human being. Thus, it is proved that your voice can give away your sexy self.