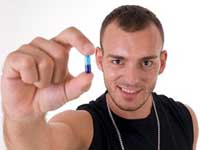 Manipulating testicular hormone levels can turn male fertility on and off, giving way to a new strategy for developing 'the pills' for men.
With the pills, men can have similar type of control over their fertility that women have had since 1960s. Thanks to the scientists who have discovered how and where androgenic hormones work in the testis to control normal sperm production and male fertility. This opens a promising avenue for the development of 'the pill' for men.
The research conducted on mice was successful and hopes to show similar results in others animals, such as humans too. The discovery also offers hope to those who cannot have children because of low sperm counts.
The first group of mice that were tested were normal, but the second group was found to be missing a gene from the Peritubular Myoid cells in the testis. This gene that was missing codes for the androgen hormone receptor, and when missing, sperm production was significantly decreased when compared to the normal group. The result was infertility.
Not only does this research pinpoint androgenic hormones and their cellular receptors as prime targets for the development of new birth control drugs, but it promises to speed the development of new agents to boost sperm production as well.