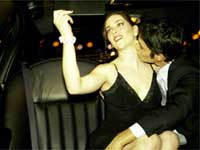 Are you wondering what the above words mean? Wait, before you turn away from discussing further, just realize that these words hold a clue to your sexual behaviour. You may be an erotophilic or erotophobic, when it comes to consider your physical pleasures.
If you are an erotophilic person, you may think that lovemaking is natural and something to be celebrated. On the other hand lovemaking will be restrictive and condemning, for an erotophobic person. Being either erotophilic or erotophobic can tell a lot about your sexual taste, sexual desire, sexual life, sexual response, and libido.
Once you come to know in which spectrum that you are standing, it will help you to understand whether you consider sexual relationships as rewarding or not. This understanding will also open into opportunities where people can express themselves sexually.

Being an erotophilic will help you to score in bedroom since, you have a positive feeling about lovemaking. You have confidence in your sexual image and consider sexual intimacy as a means to affection, love and emotional connection. For you people lovemaking is a medium to maintain your relationship. On the other hand erotophobic people consider lovemaking as a hassle. For them lovemaking must be done, if it must be done.
Erotophilic may be an obsessive thinker about lovemaking and they will have frequent sexual dreams. Signs of sexual arousal are more frequent in them and they will be met with greater positive feelings.
However the sexually intrusive thoughts will bring a negative feeling to the erotophobes. Their feelings include guilt, disapproval and a greater desire to avoid the thoughts. Instead of a positive feeling, they will experience, sexual anxiety at the time of sexual arousal.
Being an erotophilic or erotophobic can adversely affect your sexual health. The erotophilic might have a partner who shared a healthy outlook on lovemaking. But their absence may make life difficult for them.
Erotophobes are usually the victims of sexual abuse or may feel sexually restricted by the religious and societal norms, mores, restrictions, and taboos that seek to regulate one"s physical pleasures. These factors may make it very difficult for them to sexually connect with their partner.
Once you find out in which category that you are in, try to get sexually enlightened owing to positive sexual experiences and sexual education.