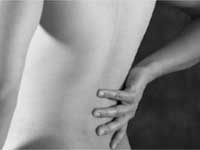 Back and neck pain is adversely affecting the sex lives of 1 in 5 Australians, according to a new survey. The nationwide survey has shown that back and neck pain is causing misery in many areas of life for 8 out of 10 Australians.
This kind of pain is a way of life for a worrying number of sufferers, from the moment they wake up. This means that they suffer from a pain-interrupted sleep, working through discomfort at their office desk, then missing out on the hobbies and sports they love, according to the Panadol Back + Neck Report,
Almost 50 percent of those who suffer back and neck pain get pains weekly or more frequently and it"s not inconsequential pain at that; 41 per cent of people suffering from back and neck pain have experienced severe or debilitating pain which leaves them incapable of leading a normal life.
Australians with back and neck pain said that it makes them feel irritable, frustrated and distracted. And more than a third of those over fifty with back and neck pain report feelings of depression associated with their pain.
"Pain and discomfort can have a very negative affect on peoples moods, putting pressure on their relationships and other areas of their lives," the Daily Telegraph quoted Anne Hollonds, CEO of Relationships Australia, as saying. "When people are feeling irritable, frustrated and distracted it's hard to put a hundred per cent into your relationships, as well as your work and other commitments," she added.