If you sit and read Kamasutra, you will find many sex positions. However, these uncountable sex positions can be really confusing for you in the first go. If you want to add little spice to your sex lives, then try these easy to do sex positions. These sitting sex positions can be done anywhere. Be it a couch, chair, bed, balcony or car! Read on...
Sitting sex positions to spice up sex: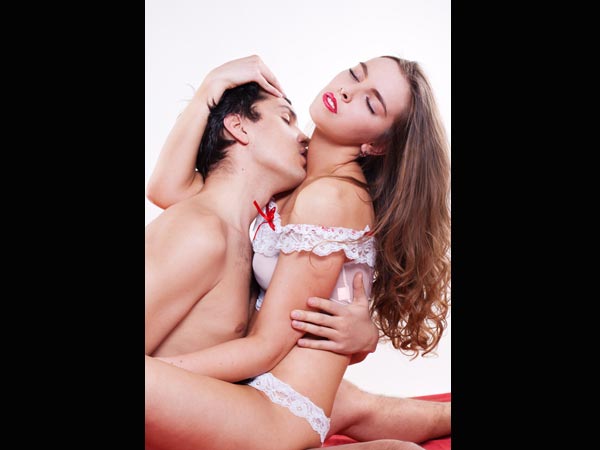 Fusion: It is one of the easiest sitting sex positions that is tried by couples. The fusion is a sorority of the cowgirl position. The man will sit with his legs spread apart and the woman will sit on his lap with his legs wrapped around his torso. In this sex position, the woman controls the penetration, pace and action. The man can enjoy it as he can see the woman who is facing towards him. He can caress his lady and feel her.
The cliffhanger: In this sitting sex position, the man will sit at the edge of the bed, couch, slab or chair. The woman will hug him and sit on his lap. Her legs will wrap around his torso to balance the body weight. Then she will go little back and then control the intercourse. The man will sit and enjoy the pleasure. He can feel and caress the woman and also make her reach orgasm. The penetration is tilted thus giving access to her g spot and the man can also use his fingers to play the game.
Black bee: Even in this sitting sex position, the man will sit on the ground or bed. The woman will kneel over him and spread her legs wide apart. Also known as Bhramara in Kamasutra, this sex position is great if you want your woman to dominate you.
Upright doggie: This is not exactly a sitting sex position as the couple kneel and perform. It is similar to the doggy style position. The only difference is, both the man and the woman will kneel. The man will be behind her and will control the intercourse. He can grope and caress his woman by using his hands.
The lotus: It is one of the most common sitting sex position. The man will sit on the floor or bed with his legs crossed. The woman will sit on his lap and make him enter inside her. In this sex position, both the man and woman exert pressure and push each other. While enjoying sex, they can caress each other.
These are few famous and highly preferred sitting sex positions that you can try.