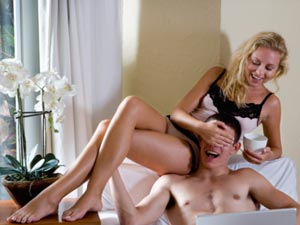 If you want to make a quick session of lovemaking then don't try the common and simple initiative measures. To make love, always be romantic as girls want romance more than orgasm. Directly jumping to a quick lovemaking session will show you as a desperate man. Following are simple ideas to start orgasm in a romantic way!
Ideas to start orgasm with romance-
Grab your lady love in the kitchen from back. You can also try using some food item like sensual strawberries, cream or chocolate. Apply it on your partner and lick it or else share some together.
Eye contact can also signal the start of romance. Use eyes sensually to get your partner's attention. Women can smartly use eyes to sensationalize men.
Touch your partner in a sensual way. Feel your partner and adore the body. This will arouse the mood to make love automatically. Take your partner in lap to make it romantic.
Go for a bath together. If this doesn't happen, take an excuse to call your partner and then grab her inside. The sensual bath will be a great fun to start orgasm with romance.
Indulge in foreplay to get into the wild mood to make love. Orgasm becomes erotic if you try foreplay. Women are more likely to love foreplay.
Wet long hair turns on a man instantly and the morning erection adds to that. Wearing attractive lingerie can also be a sensational idea to start orgasm.
Try these ideas to start orgasm and make love with romance and passion!