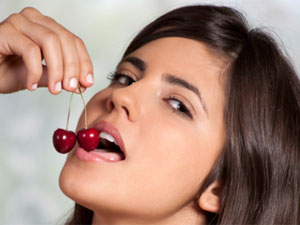 You like a guy and want to impress him...
you show gestures and sensual expressions to grab his attention towards you..
he looks at you and takes the initiative
you get your job done without the first move!!!!!!
Often women use sensual expressions and signs to attract men and this actually works! If you want to get dirty and sensually attract a man you like, here are few signs which can be used to get his attention.
Sensual signs to attract him:
Use lips: This is simple! You can just use your juicy lips to show signs of sensuality and the mood to make love. You can either suck the lips or bite the lower lip with teeth as a sensual gesture. For more sensual affect, apply red lipstick which is glossy and makes the lips look juicy and fuller. This attracts more attention of men and are appealing to the eyes.
Body language: You body language clearly shows your comfort levels. It is important to relax and keep the body language flexible. This is a sensual gesture to show signs of physical affection. Throw this gesture, you signal the man that you are fine with the intimacy and is waiting for him to come to you.
Reveal: This can attract any man in seconds. This sensual gesture is loved by men and can clearly show that you want him physically. Try to show off those beautiful cleavage in a deep v neck top or dress. This will excite your man and bring him close to you!
Play with your soft hair: This is most commonly used sensual gesture to attract a man (followed by the lips game). You can simply play with the strands of your hair and get his attention. This also impresses a man and makes him fall for you. Wet hair can add more appeal to the sensual expression. This is mainly because men love wet hair of women and the water drops falling on the shoulders can drive them crazy in seconds!
Try these sensual gestures and expressions to impress your man and attract him towards you.
To read this is in Kannada, click here