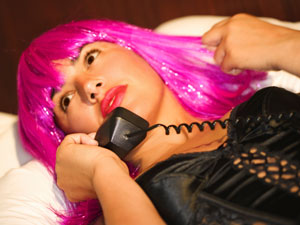 You feel bored and desperate when your partner goes far from you for few days or weeks. The urge of making love to your partner increases more when physical distance is more... This is why, you find it difficult to resist your physical love. Sometimes, you might be excited and in mood for making love but your partner is busy working. To excite your man when he is far away from you, you have to be smart with your sensual tricks. Try these skills to keep it wild when he is far...
Sensual tricks to keep it wild when he is far away:
Dirty talks: How about sharing sext messages? Dirty talks can boost your mood and enhance sensuality. Involve in dirty talks with your man when he is free. It increases the attachment and also makes you two crave for each other more. In short, sext messages will spice up your romance life.
Phone or cam sex: As you two are physically far, make this moment also wild by indulging in phone sex. If that is not turning you two on, try using web cam. Nothing works great than a visual presentation.
Take a dirty picture: I am not talking about the song but actually suggesting you to take a dirty picture for your partner. Men can get turned on easily by watching a dirty picture of yours. Make him fantasize by sending a dirty picture!!
Read erotic novels: Whenever you are excited, read an erotic novel which has romance and sensuality. For women, romantic novels are a big turn ons. Spend your free time by reading erotic novels.
Watch a film: Like men, watch an adult film and keep it wild even when he is far away from you. You may get new ideas and angles to make love in a better way next time.
Try these sensual tricks to spice up your romance even when he is far away.