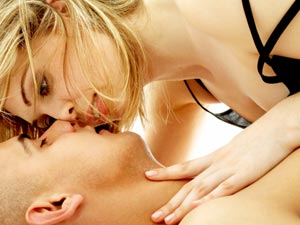 There are many ways to excite your man. You can either wear a sexy lingerie or attract him with gestures. To sensually attract him towards you, try these seductive tips to woo him!
Seductive tips to woo him:
Appearance: To sensually attract a man, you have to appear perfect. Dress according to the situation. When the mood is romantic, opt for deep cuts and necks which reveal your assets a little and excites him easily. You can also use the colour red to seduce him.
Just dance: A man get excited when the woman takes control over the session. Get him to the dance floor and turn him on easily. Don't forget to play some sensual songs. Your dance will be more intimate and would turn him on.
Flirt: Nothing is more seductive than flirting. Try this tip to woo him and make him come to you. Use your eyes, lips and hands to throw sensual gestures on him. It is a big turn on for men.
Touch Him: Try it and see the magic. Touch him accidentally and rub your hand or arms on him. You can also be intentional. Just tickle him and excite your man in seconds. Don't forget to talk dirty while trying this seductive tip to woo him.
Bathe together: This is another seductive tip to woo him. Fill your bath tub and drag him inside. If he is no mood to enter inside, open the door and ask for a towel. Pull him inside the bathroom and enjoy a bath together.
Try these seductive tips to woo him! Aways be confident to turn him on easily.