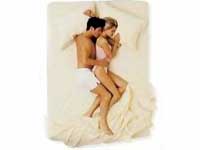 The process of lovemaking should give enjoyment and satisfaction for both the partners. If both of the partners do not have any inhibitions about experimenting different positions, the process can present them a prolonged orgasm.
Spoon fit is one among the most favorite positions of couples, for ages. It fits the bodies close, as the woman's back is pressed against man's front. The partners will lie on their sides and man can enter from behind. Man gets the access to the whole body of his lady from behind. The name 'spoon fit' or 'spoon position' derives from the angle the couples sprawl their bodies side by side, with the 'bowls' aligned.
This position provides maximum physical intimacy between the partners, as it allows the man to cuddle the erotic parts of the lady. The skin contact is great, which presents a very romantic night.
Spoon fit is the best position to make a slow and sensual lovemaking. This position does not make the process of lovemaking strenuous as it provides comfortable resting for both the partners. It does not put much pressure on the woman's abdominal part. Hence this is also considered as the safest and comfortable position for the pregnant ladies, especially during the first and last trimesters.