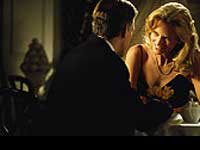 Women are often reported to be the shy one to make the first move in bedroom. A successful sexual relation is one of the most important aspects of a successful marriage. Thus to help you in making out your night not only successful but steamy here are five steps -
1. The Magic Of Before Play
It's time you break the notion of a coy lady. Before play is all about setting the right mood for a hot night. Back from work your man could be stressed. Let him see you soothingly beautiful. Comfort him with a loveing hug. Arrange for a candle light dinner and at the end of it, the mood is set.
2.Turn On The Heat
Why not take a candle lit steam bath. Let the candle light define both of you in it's romantic light. An aroma candle would be the best idea. The sensuous light and snuggling aroma, takes you to the trance of pleasure.
3.Play With Food
Chocolate, the seducer can work wonders. Share a chocolate bar or an ice cream together. Take care of him and feed him yourself. Get naughty with a chocolate bite and enjoy the careless play.
4.Let Him Know What You Want
Boys like it best when they are told. Tell him your wish and by the fourth step he is under your spell. Let him explore your wishes and find out something new about you. Keep a hidden secret and let him reveal it.
5.Encourage Him
Play the sex game. Explore him and observe what he likes the best. Repeat the action and sweep him off the floor. Encourage him in his act.
Go ahead and enjoy a steamy night!