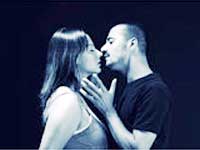 With all the Christmas shopping going around, couples often ignore the fun between the sheets. The 12 days of the holiday season sees least love, affection and lovemaking.
Here is a day to day tip to spice up your holiday season.
Day 1
Make a corner of your bedroom or lounge as a seduction zone. Have a few sensual smelling candles ready to light, cozy cushions plumped up and a romantic CD ready to play. Snuggle there to get in the mood.
Day 2
Arrange for some mood enhancing mistletoes. Hang mistletoes around your flat including the bedroom. Be ready for lots of snogging.
Day 3
Have some saucy fun with cracking crackers. Make your own crackers by using a kit from any good stationers. Create special ones to pull with your lover.
Day 4
Drive your partner wild by wrapping yourself in Christmas ribbons. Women can lace them through a sexy bra and knicker set and finish it off with bows for him to untie later.
Day 5
Enjoy a romantic dinner. Take some time out for just the two of you and spend time together. Head to your favourite restaurant or cook a romantic meal at home with the most sensuous foods you can imagine. Relaxing and forgetting about all the stress of the festive season will soon put you in the mood for love.
Day 6
Try playing the grown up version of hide and seek. Hide small gifts, bells or sweets on your body and ask your partner to search for the surprise.
Day 7
Plan an evening of sexy massage with seasonal aromatic lotions. Lie down in a candlelit room on a warm towel and give each other a a slow massage.
Day 8
Choose the sexiest outfit for the Christmas party and put on a mini catwalk show before you head out. He"ll be counting the minutes until you get back home.
Day 9
While your partner is at work or out of the house, send him a sexy text message telling him exactly the sort of fun you"d like to have when he gets back home. He wouldn't be able to think about anything else all day.
Day 10
Christmas is one of the most stressful times of the year so chill out together in a candlelit, sudsy bath. Try feeding each other sensual fruit such as strawberries.
Day 11
Surprise your man by wearing proper, old fashioned sexy, silky stockings. These are the all time favourite among men. Tease him a bit, whisper in his ear what you"ve got on.
Day 12
Owing to all the parties, the best present to give each other is an early morning romp before you both feel too stuffed with turkey and trimmings to move off the sofa! After all, it"s the most wonderful time of the year so celebrate in style.