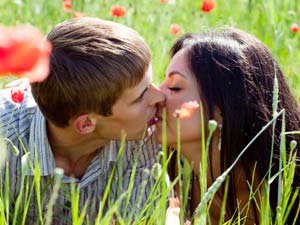 Making out is a term used by youngsters which involves kissing and little intimacy but not proper lovemaking. This is basically the first step n most of the relationships and so, the first impression needs to be perfect. Therefore, check out the lovemaking tips for making out the first time.
How to make out first time?
Place or location: Always check out the place if you are planning to get intimate with your partner. See if it the best place to make out or not. Women want to be in lonely places so as to be free from getting caught.
Comfort: Check the comfort level of the partner before taking the initiative. It is best to discuss and get to know the requirements of the situation. This helps throw decent impression and get approval too!
Get close: Making out is not just about kissing. Don't directly jump to a smooch. Feel the partner and get cozy. You can start with getting close and then approach ahead.
Feel: Touching her hands, face and playing with her hair is a part of making out. Always use this lovemaking tip before you start making out with your partner.
Kiss: After you both feel the want to kiss desperately, get the faces close and let the lips do the magic. Set the angle before kissing so as to avoid getting noses in between. Use your tongue while kissing to increase the drive.
Last long: It is best to last as long as possible. The moment is new and great for each other so let the moment become memorable. Don't stop in few seconds if the partner doesn't want to. Remember, making out is the start of an orgasm session. If possible move ahead!
Always compliment: To throw the best impression on her, it is good to compliment her after the first kiss. This encourages her to b more comfortable with you! This step will automatically lessen your fears too!
Try these lovemaking tips to start making out first time and make the moment yours!