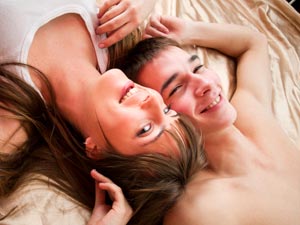 Gone are the days when every girl was well worth wooing and winning. People are not even willing to wait and explore a relationship, both physically and mentally. The thrust is on experimentation rather than exploration. You have one night together and then people move on. So the relationship does not get the chance to blossom and that means you won't get the time to open up in bed. So if your first night in bed might well be your last and you really like the guy, you have to win him over in this one chance.
Here are some lovemaking tips for you to hook him on your first night in bed.
How To Hook Him On First Night In Bed?
Firstly you have to be innovative. If he there is a chance that he might slip away then he is wily enough to know all the ways of women. So any thing tried and tested will not work on him. Hot showers, chocolate on your skin are very over used ideas so think different.
The best way to surprise him is to try really innovative lovemaking positions. Men do not like women who stick to the same old positions that ensure quick lethargic organism. They want something to keep them going and that 'something' has to be really novel to hold him.
Do not be what men describe as a 'lousy lay'. You have to pro active. If you are sloshed and too tired for a night of action then excuse yourself. You might have another chance later. But if your first experience with him is a drunken orgy then he will definitely not want another.
Be careful not to become so proactive that you become sleazy. You do not know him well enough (meaning his tastes in lovemaking) to try dirty tricks. People are very touchy about their personal beliefs of what is acceptable and what is not in bed.
Men like women to participate but not all men like a woman to lead. You must start slowly and see how he reacts. Do a few dominating stunts and see if he enjoys it. If he does then you will know from his body language. You can also do a bit of ritual talking in bed to find out. Say stuff like, 'want me to get wild' and see how he takes it.
One of the best lovemaking tips that never fails on your first night in bed or any night in bed is moaning. Men love to hear a woman moan because it satisfies their ego. Use a variety of moans; the soft moans for arousal, grasping for more and reserve the squeal for an orgasm.
If you want him to think that you enjoyed it then don't talk too much about it. Your body language should exude satisfaction.
Use these lovemaking tips to make him yours on the first night in bed.