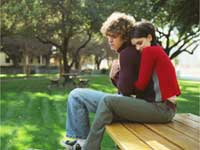 It is called the land of Eros, the country of expert lovers, but it looks like the French have lost their touch when it comes to the 'naughty' activities happening under the sheets. The country's folks are now seeking help from the British to put a bit of oomph back into their love lives.

The newest trend in France for chic designer boutiques offering tips to couples on how to spice up their sex life is being fueled by erotic products from over the Channel.

"We are supposed to be the land of Eros, the country of expert lovers," Times Online quoted Patrick Pruvot, owner of Passage du Desir, one of several new 'love stores' in the center of Paris, as saying.


"As a matter of fact, about a third of the products I sell come from Britain," he added. Anna Ciulla, owner of Les Nuits Blanches, where she seats customers on a red velvet sofa to talk about sex, says that she sells many products from Britain.


[an error occurred while processing this directive]

"I feel as though I'm providing a really useful social service. People always leave with a smile on their face," she said.

"What Britain has that you don't find here so much is a good sense of humor. A sense of humor in bed is really important," she added.