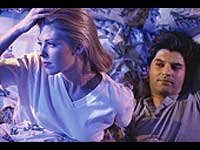 Experts say that 70 percent of women find it difficult to reach an orgasm. Love making is a process that requires lot of co-operation from both the partners. So it's not the man's job alone to make his woman reach the orgasm, her actions too play a great role in attaining it.
Here are some reasons, why women find it difficult to reach an orgasm :
Foreplay : Foreplay, plays an important role in love making and helping your woman reach orgasm. While you compare both women and men, women take more time to reach the orgasm. So foreplay should be extended as to match your woman's need.
Multi - Tasking : Women are known for their multi - tasking skills. Unfortunately this skill acts as a hindrance in helping them reach an orgasm. While they will be indulged in love making, womens' mind will be diverted to some other thoughts. Hence she doesn't attain the orgasm.
Bed Communication : As you both are indulged in love making, unless you both communicate to each other, regarding what pleases you both, you won't be able to help her reach an orgasm. Hence you should let your partner know, which action or move of his is making you feel good and should he continue that or shift to a different technique.
Frequent Changing Of Techniques : Men love to experiment different positions and techniques but if you frequently change the techniques, then you are disturbing your woman's smooth attainment of orgasm. Hence try to stick to a particular technique for a while, as I had mentioned earlier that women take longer time to reach an orgasm.