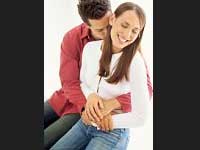 Sex and desire have always been viewed to be a very important part of life, but in the pursuit for carnal satisfaction, ignore the safety and healthy bedroom rules.
Dr. Barry Buffman, has noted down ten top sex myths that are most common among men.
First Myth - Men think that if they 'pull out' before ejaculation, it prevents pregnancy.
The fact is that ejaculatory fluid begins to seep out - and even ahead of a perceptible orgasm. The pre-ejaculation sperms are released and is enough to get the girl pregnant. Thus, the 'pull out' technique is not full proff. Use a condom.

Second Myth - Thinking of Someone else during lovemaking is bad.
The fact is that, the sexual act starts in the brain before it gets physical. It is ok to think of your favorite celebrity. It does not lessen your commitment to your lady. Rather it might help you perform better.
Third Myth - Premature ejaculation only affects young men.
The fact is that some men do find that premature ejaculation begins at the onset of sexual maturity, but plenty of men also find it to be an issue later in life. In fact, premature ejaculation affects 30 percent of men at sometime in their lives.
Often, early ejaculation in men who are in their 30s or older is a co-symptom of erectile dysfunction or fatigue, poor cardiovascular conditioning, depression, anxiety, or neurological symptoms.
Fourth Myth - Oral sex is safer than vaginal sex
The fact is that, Oral sex can be more sensitive than vaginal sex. Oral sex may give you more pleasure but at the same time heightens the risk of sexually transmitted disease.
The fluid exchange does happen and the disease may enter your body through sores or small cuts in your mouth and throat.
Fifth Myth - Certain food like can put one in the mood for good loving and aphrodisiacs.
The fact is that, while oysters, dark chocolate, strawberries, and tiger penis might make one feel l'amour, there is yet no scientific evidence to support the validity of aphrodisiacs.
Sixth Myth - Size matters.
The fact is that, size may add on to the look but when it comes to sexual desire it far outweighs any gifted parts. The size has nothing to do with the size of one's ones hands or feet.
Seventh Myth - Viagra and other similar oral medications can treat erectile dysfunction.
The fact is that oral medications are not the treatment but just a temporary fix to a problem that may have other underlying health causes.People suffering from health conditions like hypertension and diabetes, cannot take oral prescriptions due to serious potential side effects or contraindications with other medications.
Eight Myth - After a certain age, sex is no longer important.
Sex is an important aspect no matter you are at your hay days or celebrating the golden years. It is related to physical satisfaction and it is always pleasing.
People believe that decrease in libido is a natural part of aging and leads to loss of sexual desire. The actual reason could be hormone deficiencies, depression, anxiety disorders, side effects of medication, changes to a relationship, communication barriers, or loss of a spouse or partner.
Ninth Myth - Men having more sexual urges than women do.
The facts is that, your coy mistress, shares the same sexual feeling. It is believed that men are ready to get sizzled 24x7 but the fact is that women too sahre the same feeling.
Men and women's sexual desires are effected with same factors like diet, sleep, health, stress, medical conditions, self-confidence, and relationship disharmony.
Tenth Myth - Great sex will just happen naturally.
The fact is that, sex is an art are with each enhancement, the pleasure increases. To reach the epitom of good sex, communication is very much neede. Trying something new everytime, applying a new trick, adds excietment. It just does not happen, you need introduce it.
Good communication is the key to good sex. It can be a little awkward at first to over-communicate during sex, but think about the outcome: a partner who knows how to do it right every time.
Walk past these myths to enjoy a safe sizzling night with your partner. The mantra of a good sexual relationship is commitment. Sex for fun does not burns out quickly. To keep the fire lighted, shade it with commitment.