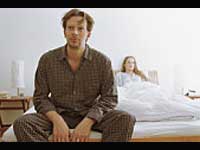 The secret of happy married life lies in satisfied sexual life. The new poll conducted by the Pfizer Asia-Pacific Sexual Health on 3,000 sexually active men and women have confirmed that sex is one of the most important factors of happy marriage.
It was also learnt that due to the busy lifestyle, most marriages are suffering from unsatisfied sex life. About 57 per cent of men and 64 per cent of women has reported to have been suffering from the problem.
Sexual dissatisfaction, among both men and women,have been discovered to be erectile dysfunction (ED).
"Men with ED should be specifically targeted for CVD preventative strategies in terms of lifestyle changes and pharmacological treatments. To some extent, we are still pre-historic in handling this problem. Frequent intercourse is a healthy thing to do. Quantity is very important to men but quality is important for women, says surgeons Professor Michael Kirby.
Erectile dysfunction does not only mean, inability to sex. It is also associated with love and romance, family life and role as partner -- for men and women.
Men with ED are less interested in sex, are less satisfied with sex and overall have a negative perspective of life.
Erectile Dysfunction is a serious illness but can be cured. Kirby says, "Many patients are reluctant to seek help because they believe it would not be recognised as a medical problem. Some also fear that discussing sexuality may embarrass their doctors and themselves. But we need to raise this iceberg above the surface."
It is better to get it cured than to disease a relationship.