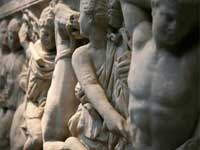 In most Asian countries 'sex' is a taboo. The very mention of it sends cold, curious glances. There is a sense of immaturity and bad mouthing where sex is concerned. Amidst all this few people dare to be different. One amongst them is Professor Liu Dalin, pioneer in sex studies in China. He opened the Museum of Ancient Chinese Sexual Culture housing his collection of nearly 1,200 antique sex toys, fertility idols, porcelain copulating animals and erotic paintings. It is first of its kind in a society where sex is treated as obscene and objectionable.
On September 2, 1999, Liu opened this museum in one of the most up-market shopping districts in Shanghai, China. This he claims is not for entertainment but serious education. Liu started collecting sex artifacts in 1989
His collection spans over a period of 6000 years and comes from all over Europe, Africa and some Asian countries. Apart from fertility idols there are amusing sex toys, statues of mating animals, smiling pigs and depictions of sex organs in jade and ivory.
China has always been a very conservative society, all the more because of communism. The old school of thought still finds its existence in fragments. In a society thus shrouded, a sex museum is close to a revolution. Though today society is much lenient than what it was, open talk of sex is still behind close doors.
The museum is tastefully decorated with good lighting, thus highlighting intricacies of art. The sections covered are sex in various religions, Hindu and Buddhist erotic sculpture; gay sexuality in China and prostitution. There are some antique graphic paintings dating back to the Song dynasty of the 10th and 13th centuries. Also you will find paintings of sex acts from Japan, China, India and Thailand. Some of the collection here is barred from public viewing.
Erstwhile China treated sex as a vital part of life, just like food. From the 7th-to-10th-century, the Tang dynasty was at its peak and was a sexually open epoch. The open mindedness and maturity could be seen everywhere in art, literature and society. With time, the doors slowly closed.
After years of struggle to keep the museum alive, Liu is packing up his erotic collection Tongli in the countryside. There are similar sex museums in Japan and Netherlands. The sex museum in Japan is a major attraction and houses miniature figurines of the sex act in various positions, a chest full of dildos, a movie theatre with a running movie and much more. Some go there for fun, some for knowledge and some to buy sex aids.
The sex museum in Amsterdam, Netherlands is all the more intriguing. There are collections of literature and manuscripts of sex through the ages. There are booths, which play porn movies of your choice. There is a room that shows thousands of pornographic pictures from around the world. There is also a chair in the shape of a male organ that vibrates when you sit on it. There are similar museums in Los Angeles, New York, Spain, Holland, and Denmark. They exhibit everything from pornography to high-minded paintings exploring local sexual attitudes and culture.