Foot fetish is a very common thing nowadays. Some people are overly attracted to the feet of their partners. So much so that the idea of having foot sex is enough to give them goosebumps.
If you are new to the concept of foot fetish or foot sex, then let us tell you all about it. Foot fetish is being sexually aroused by the feet or footwear of your partner. For a foot fetishist, the points of attraction include the shape and size of toes, jewellery, foot treatments like pedicure and massage.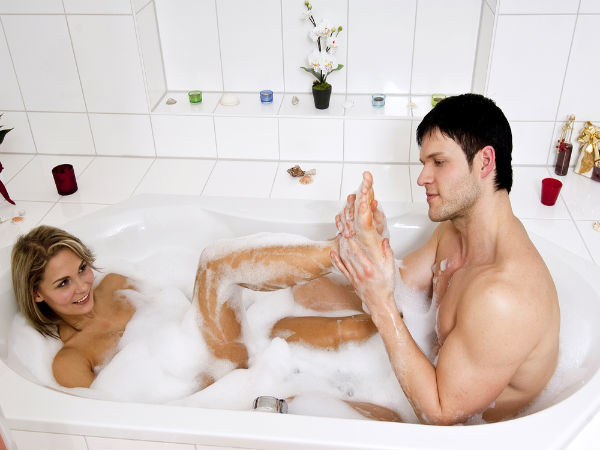 Even if you do not have a foot fetish, the concept of foot sex can be quite a interesting one to try with your partner. If you get the techniques right, then you can have an amazing orgasm even with foot sex. It is a good idea for a sexy foreplay and a new move that will take your partner by surprise.
So, here are some easy tips for foot sex. Do give it a try.
The Slow Massage
You can start rubbing your foot on your partner's penis if you are a woman. Slowly rub your toes and soles on his manhood till he gets an erection. If you are a man then as your woman lies on her back, slowly start by massaging her feet with your hands. Then touch her feet with your penis and rub it in an up and down motion.
The Grip Fuck
In this technique the woman has to place her toes and soles together. The right toes should touch the left toes like a grip. The man has to insert his penis between the soles and the woman has to grip it firmly. Then the man can start stroking and fucking the feet slowly first, then gradually increasing the speed. The visual and sensual stimulation of this position is difficult to describe in words.
The Toe Jam
This technique involves inserting the penis between the toes. The woman should be able to spread her toes properly to get this technique right. So, basically the woman has to spread her toes enough to let the tip of the penis in. Then the man has to slowly move to and fro to let the shaft squeeze between the toes. Usually it is possible only between the big toe and the second toe. But if one is lucky enough then he can squeeze his shaft between the other toes as well.
So, try out the amazing foot sex with your partner and have a wonderful time together.