You must have heard of the phrase that the way to a man's heart is through his stomach. But it is not necessary that you have to go through the process of cooking alone to make way to his heart. Two of you together can spice up the food with a combination of mind blowing sex in the kitchen!



A man's basic necessity revolves around only two things, food and sex. So, when you mix up these two things, he will do anything you want him to. You do not have to slog in the kitchen to find the way to your man's heart. Just make the cooking funnier and sexier. Seduce him into the kitchen and do the cooking together. Not only cooking the meal but also cooking up some steamy and sexy love!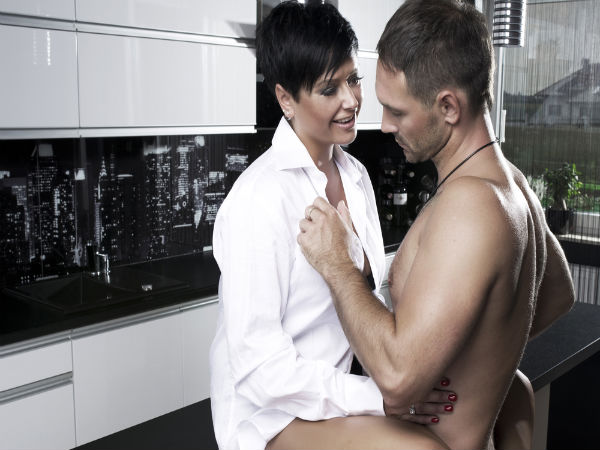 Here is a sexy recipe to steam things up in the kitchen with your man tonight. Have a look:



Dress Provocatively



No, we are not asking you to cook wearing a lingerie. Wear only an apron to let him know that you have no objections in being seduced by him. Or you may wear something subtly provocative where you may show-off your naughty cleavage only to make his mouth water! Suddenly cooking will become sexy and an erotic job rather than a routine and dull one.



Get Him From Behind



There is nothing more sexy than sneaking up behind your man while he is busy putting the seasoning in the soup. Gently place kisses around his neck, press your chest against his back, slip your arms to his waist and then let it go down. He will probably give up on the cooking and grope you from behind.



Sip On The Wine



To build up the mood, get some sensual music and a glass of wine. Give him a few kisses and nib at his neck to get things steamy. Licking fingers and kissing will be a huge turn on for both of you.



Use The Table



You will never forget the experience of having sex on your kitchen table. Clear up the things from your table and make love on it. Then spread out on your dining table and give provocative signals to your partner. He cannot resist the provocation and you will end up having the best sex of your life.



Try these moves in the kitchen tonight and make your man go crazy with pleasure.