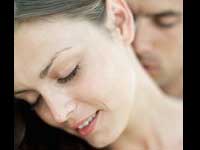 According to Vatsyayana, the author of Kamasutra, "When there is no magic in the togetherness of man and woman, and no poetry, sex is a lifeless, dead thing."
Like men, women too enjoy sex. They are more curious and experimental when it comes to love making. Women does not enjoy a mere bed time, they look forward to a real spicy night.
There are certain sexual positions which give extreme pleasure and which help women reach utmost orgasm. Although women like to explore sexual positions and activities, there are certain positions which they prefer the most.
1.Although 'Man On Top' is the old traditional position, women of every generation love her man to be on top and please her. Women love to be pampered and caressed, hence they enjoy their man on top.
2.The second best position is '69 - Mutual oral sex' Women look forward for oral sex. They can be pushed easily to orgasm with mutual oral sex. Also she believes that mutual oral sex binds the relationship, as she goes with heart-to-heart connection.
3.Although earlier it's said that women love man on top. There are times when she wants to be on top. Hence the next preferred sexual position of hers is 'Woman On Top'. Woman enjoys showing dominance and excellence when it comes to sex. Also this position help her reach the orgasm with best clitoral and G-spot connection.
4.As I mentioned earlier that women are great explorers, the next liked position of hers is, 'sitting position' i.e. love making on a table or a couch. This position gives her quick orgasm. Also as this would be done out of the bed room, she enjoys the adventure and excitement factor of it.
5.Another preferred position is, when she and her man are sitting in the center of the bed, while she is been placed on his legs and made to wrap her legs around him. As the act of stimulating each others hot spots and the insertion takes place, she reaches a nice orgasm.
So, when you think of giving your female partner a best bed time, give her what she loves.