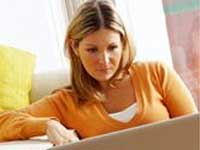 With a sharp increase in dating, experts are constantly reviewing about the benefits and pitfalls of matchmaking through the web services.
Research showed that online dating can be misleading since people often provide inaccurate information about themselves in their profiles. Nicole Ellison, Assistant Professor in the Department of Telecommunication, Information Studies and Media at Michigan State University says that most people lie about at least one of their characteristics.
While almost 52.6 per cent of the men and 39 per cent of the women participating in the research lied about their height, 24.3 per cent of the men and 13.1 per cent of women were deceived with false ages.
Most of the participants balance the tension between appearing as attractive as possible, while trying to be perceived as honest.
Experts believe that the dating is also one of the major causes of disrupting existing marriages. Never before has the dating world been so handy for married men and women looking for a fling. With cyber sex, there is no longer any need for secret trips to obscure motels. An online dating liaison may even take place in the same room with one's spouse.
However, Internet matchmaking was also argued to be helpful for some people, particularly those seeking partners within a particular community. Members of minority groups looking for people in their own community find it very useful.