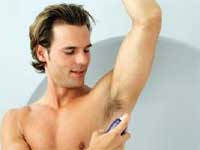 The simplest method to boost men's love life - an underarm lotion that boosts testosterone in men, may soon hit stores.
The name of this underarm lotion is Axiron. It will be used to treat men with low testosterone levels, over 45 years of age. The studies found that it could restore the normal level of hormone in more than 84 percent of the patients tested. This sex drive lotion also found to be successful in boosting the sexual performance, desire and mood in the patients with low libido.
Acrux Ltd and the US pharmaceuticals, Eli Lilly has signed the deal to sell this lotion. Eli Lilly will get worldwide rights to market the Axiron treatment, as per the agreement.
''Lilly hopes to leverage our experience in men's health to advance both the science and clinical outcomes for men with low testosterone. Axiron has the potential to be the first testosterone solution to be applied via an underarm applicator, for patients who have testosterone deficiency, "says Bryce Carmine, the President of Lilly's Bio-Medicines.
Axiron will reach the international markets by early 2011.