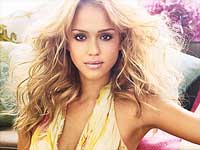 Ever wondered what would be the sexual fantasies of the sexy starlets? Here is a sneak peak into the sexual lives of the Hollywood damsels-Scarlett Johansson, Cameron Diaz, Jessica Simpson and Halle Berry.
The damsels revealed that their raunchy antics stimulate them to get their best of the passion in bed.
Scarlett Johansson loves to enjoy lovemaking in the back seat of a car to have it in a racy and kinky way.
Cameron Diaz believes that lovemaking is all about being in the moment, whether that means being coy or coming on hard. She never approve for faking anything in the bed.
Jessica Simpson assures that playing to get it hard makes the lovemaking an exciting experience at the end.
Halle Berry believes that sexiness is all about what's sexy to you. She enjoys the spaghetti served off the tips of a man's fingers.
Jessica Alba gives her sexy tip on a sexy outfit. According to her that outfit visually stimulates a man. That's the secret of her lovemaking.
Now, you have the doors open for you!!!