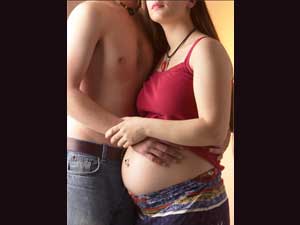 Some say that it gets better and better. Some say that it couldn't be worse. Whatever you may have heard, unless you have specific medical advice to the contrary, lovemaking during pregnancy can and should go on for as long as the couple feel like it - certainly up to the eighth month and sometimes beyond.
The point to remember is that the healthy sex urge of both the partners doesn't disappear just because a baby is on the way. In fact, you may enjoy more relaxed lovemaking during pregnancy, now that you can afford to throw caution and contraceptives to the wind.
Body basics
One of the most basic requirements for a relaxed lovemaking during pregnancy is an understanding of what's going on inside your wife's body. Joint visits to the doctor and an understanding of the process of pregnancy will clear a lot of doubts. You will also have no misunderstandings while making the necessary sexual adjustments.
Take it easy
There are certain times during the nine months when you should take it easy or abstain altogether. Surprisingly, these times are not just at the end of the pregnancy, but at the beginning too.
The most fundamental part of pregnancy takes place during the first three months when the fertilised egg develops into a tiny human being. So, take care while having sex, particularly on days when your wife would normally have her periods.

Open to options
The expecting mother may be too tired by the end of the day to fancy sex. And her early mornings will, in most probability, be hijacked by morning sickness. So, does sex go straight out of the window? Negative. Try other options like making love soon after you return home in the evenings. Use weekends to catch up on lovemaking. Social obligations on the weekends can be rescheduled a bit to fit in with a healthy sex life.
Position play
As the baby bulge steadily increases, you may find conventional positions for lovemaking during pregnancy. Get innovative and try out other positions. Beware, any position that involves deep penetration of the penis could be dangerous.
Love not lust
During the last stages of pregnancy, you may have to call a temporary halt to lovemaking. But, do not link sex with affection. This is a time when your wife will be most apprehensive and physically uncomfortable. Be demonstrative about your affection and more attentive and loving than usual.