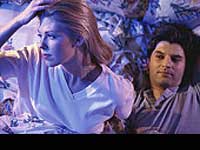 A recent research has found out that two - third of the women suffer from sexual dysfunction. This problem was seen mostly in women who came under the age group ranging from 18 - 30. And the most reported sexual dysfunction was problem in attaining orgasm.
The Female Sexual Dysfunctions (FSD) those were covered in this polling were lack of interest, lack of lubrication, having a tough time in attaining orgasm and pain during intercourse. 587 women ranging from 18 year old to 95 was polled.
"We found that 63 percent of the women suffered from FSD and that there were significant links between FSD and age, menopausal status and use of selective antidepressants" said co-author Dr Debra Fromer, head of the Center for Bladder, Prostate and Pelvic Floor Health at Hackensack University Medical Center, New Jersey.
The findings of the research was really surprising. The study stated that the sexually active bunch were those who fell in the age group of 31-45 year old. The next active group was 18 - 30 year old. Then came the group ranging from 46 - 54 year old.
The women who experienced lack of interest were 47 percent. While 45 percent had orgasm problems and 40 percent with arousal issue. There were also a considerable percent of women who faced lubrication issues. 37 percent faced issues in lubrication, while 39 percent had lack of satisfaction. Where as 36 percent had pain during intercourse.
FSDs like lack of desire, problems in lubrication, arousal issues, pain during intercourse etc rose as the women grew old.
The one problem that had higher impact was orgasm. While comparing this problem with other age groups it was found that women, in the age group of 18 - 30 experienced it more. It showed that 54 percent of women in this age group suffered from this.
"FSD can have a major effect on women's quality of life. Self-esteem, sense of wholeness and relationships can be seriously and adversely affected, exacting a heavy emotional toll," said Fromer.
"That is why it is so important to ensure that problems are identified and tackled wherever possible. For example a number of hormone and other drug treatments have been shown to benefit women with FSD," added Fromer.
The  factors that can contribute to FSD include age, sexual abuse or sexually transmitted infections, depression, lifestyle, physical health and sexual experience.