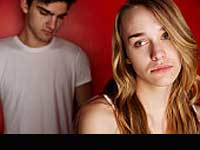 World has a feeling that men are hungry for sex but it's not true. There are times when men too deny sex and the reasons for that could be many. Here are some of those reasons why a man would deny sex.
1.If a man is taking either antidepressants or blood pressure medication then his interest towards sex would be very low. Also these medicines can affect his sound sexual function.
2.People think that men during their twenties or teens are more inclined towards sex but studies prove that it's wrong. A man during this age tend to have inclination towards a sound sleep rather have sex.
3.Identity is another issue to have a lower sexual interest. If man has a confusion or the feeling that he is not been identified for what he is, he will lose interest in sex. Even depression can be one of the reasons.
4.Man wants his partner to have the same sexual interests like his, although they don't talk to their partner about this, deep inside a man long for a woman with similar sexual interest. If he feels that his partner is not of his kind, he usually withdraw from having sex. Also men experience lack of interest due to the things what his partner does during sex or how he experiences her body.
5.Men deny sex when they are undergoing any interpersonal issues. They deny it as a punishment for their partner.
6.Stress can be another reason for their lack of interest. This can come in any form like challenges at work, financial difficulties, personal issues etc.
7.These days masturbation is a serious threat to partnered sex. Men have started finding masturbation more interesting than partnered sex.
8.Men who face sexual dysfunction, like issues in erection, early or late ejaculation avoids sex.
9.Another interesting reason for lack of sexual interest is, some men hunt for a best place to have sex, unless they find the suitable place or circumstance, they stay away from sex.