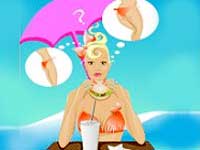 Are Skinny More Sexy??
Never! Probably Aishwarya Rai does, but not all the skinny can be sexy. The super slim look has nothing to do with the grace of a woman.
Majority of the over-weight women are insecure about their bodies. The women who become conscious of the increasing weight of the body, tend to go on strict diets and tiresome workouts. But when they lose the weight somehow, they may end up looking 'sick' rather than 'hot'.
Sometimes the efforts provide the stretch marks, which can make them more reluctant to have a lovemaking, with the lights on. The excessive dieting to achieve a perfect figure or 'curves', may lead to the destruction of overall health. We can never change the genetics or the body designs with starving or strenuous workouts.
Chubby or skinny, the personal preferences vary. It is not the weight of the body, but the confidence that mainly attracts a man to a woman. Confidence makes a big deal when it comes to the matter of libido, too. Any woman can be sexy in her own way, if she has the self-confidence. So gals..do never let the body weight overpower your self esteem and energy levels.