Striptease is a dark fantasy of a man. Every man feels excited to see a woman strip her clothes in front of him. This sensual trick can be used to spice up any night! Be it in the bedroom or bathroom, striptease can turn on men instantly! If you want to spice up your night, follow these steps to do the best and sensual striptease.
Wear black: Black is a sensual colour. If you wear it and flaunt it sensually, this colour can definitely spice up your night. Most of the men fantasise a striptease where the woman is wearing black. May be because of the adult videos in which the colour has been used by most of the stars! To turn on your man, wear a black silk fabric outfit before stripping. Do not forget to wear black lingerie. If you want to try your new colourful dress, just wear a black lingerie inside.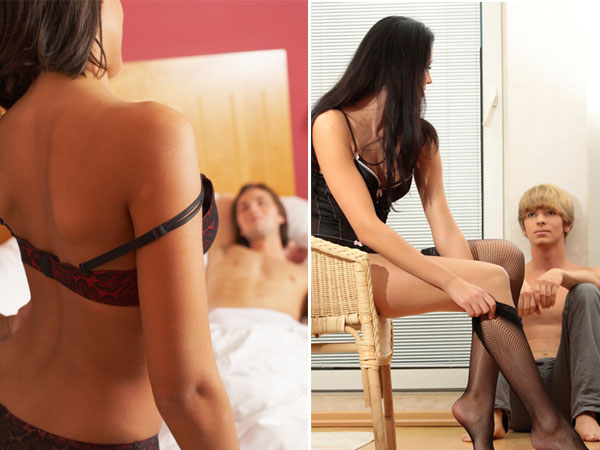 Have a chain or button?: You should be very well prepared before you plan to strip. Do not wear dresses that are difficult to open. During the flow, opening a dress with difficulty or time can spoil the mood of your man. So, wear a dress that has chain in it. It is not only easy to open but can also be used as a crop to play with while dancing and stripping.
Wear more but short: In a striptease, you undress yourself. If you just wear a small one piece, there is no fun of opening it at all. To expand the duration of the sensual game, wear an outfit with extra layers. For example, stockings, g-string, jacket, wrap around skirt etc. can be worn with the dress to perform striptease effectively.
Have a prop: While you are ready to strip and perform in front of your man, carry a prop with you. You can use a stick, feather, hand cuffs, chair or a belt. Use the prop while you strip and excite your man.
Dance: A striptease is incomplete without a sensual dance. Play the most erotic songs and perform in front of your man. Do not forget to wear high heels. Men can turn on after seeing those well shaped thighs and lean legs.
These are few steps that can help you striptease in the best sensuous way!