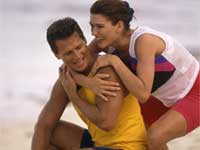 Kamasutra, authored by Vatsyana may or may not have spoken about this tantrum, but experts say it might, if worked on properly, heighten the sexual pleasure by many folds. Welcome to the world called 'outercourse'.
People who do not want to go all the way to sexual intercourse can still be more sexual, more intimate, and even more orgasmic with their lover, thanks to what sex experts call an "outercourse". Experts say that whether you're seeking to abstain, practice safer sex or spice things up, the red hot sexual exchanges involved are well worth exploring.
So, what does the word, outercourse, means? Well, the new word is the umbrella term for any kind of sex play that doesn't involve oral or traditional sex, but still manage to offer sexual gratification for lovers involved in the act. On this, Fox news reports: "It's ideal in minimizing the spread of sexually transmitted diseases (STDs) and the risk of pregnancy."
If, so far, the story has interested you. Then read along as you unfold the secrets that one can discover with outercourse, giving your lover the ultimate pleasure of love making.
Partners may feel closer and more connected with each other and themselves, while for new lovers, it allows them to build trust while feeling sexually connected. For older, experienced lovers, outercourse can hurl them back in time, helping them to reclaim the thrill of the forbidden nature of sex.
This doesn't end here. Outercourse also embodies a number of sexual activities, including:
Erotic Talk: The most and the easiest way to spice up your nights - talk dirty. Break the prototype. There is nothing called dirty when it comes to spicing up long nights. Try and see the difference. Remember, night is young and you have a long way to go. Lovers can catapult each other to a carnal cosmos with some lascivious lingo.
Sensual Storytelling: This comes second. Between reading sexy stories and looking at erotica, lovers can entertain themselves for hours while playing with their own hot spots.
Kissing: Show him(her, if it's for the fairer sex) how hungry you are. Munch onto her lips, nibble her ears, kiss her neck - places, will just not be enough. All you need, is the craze for it. Go for it guys. The journey will surely be a delight.
Erotic Massage: Not that you have to be a a massage expert, but a bit of caressing, hugging and cuddling may just ignite those sensory nerves that may get things working. Lovers work every part of the body with scintillating sexual touch.
Strip Teases: If baring works, why not? Give your lover his or her own private viewing, being sure to conclude your routine with some lush lip action and titillating touches. But hey, hang on. The most important. Make sure that you don't really have a nosy neighbor.
Sexual Enhancement Products: Sex toys were practically made for outercourse. Offering variety, experimentation, and hours of entertainment, lovers can explore each other's bodies as they tap all of their senses. Everybody does it. If Victoria Beckham loves it, why not you?
Mutual Masturbation: No harm in touching yourself, you see. Or you can help stimulating your partner. Pleasure yourself for your partner's pleasure or erotically massage each other's bodies
Dry sex: Lovers can rub up against each other to no end, stimulating each other into oblivion.
Water works: Taking to a bath or shower allows for the perfect post-rub down.
For those, who plan for something similar, please remember that the method may not completely foolproof (i.e. if pregnancy is the concern for you), as it depends on how much clothing you keep on. You are smart. So plan out with what you think the best to be.
AGENCIES