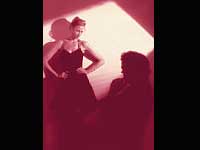 The art of seduction is one way to turn men on, but when it comes to the bedroom the first thing you would want your man to see is 'only you'. When in lovemaking the best thing that women do is to dress seductively in order to lure their man to the sweet scented bedroom to perform the art of love.
For most women, they surely know how to turn men on by seductive clothes they wear, however, about 50 percent of women are still figuring out what clothes to wear to turn men on.
Let me tell you ladies how to dress to impress your man into lovemaking tonight.
1.Black Dress - Men drop jaws when they see women in black. So if its going to be that black dress to turn men on by seductive clothes, they so be it ! Whether short in length or long, men love the color black as it looks seductive and enticing to the eyes. Women on the other hand look admirable in black therefore making men weak in the knees.
2.The backless attire - A woman's back seems to be the most sensual part of the body for a man to get stunned! Any clothes which have the back opened showing the beautiful spinal line of the woman looks tremendously gorgeous and thus this draws to turn men on by seductive clothes that the lady wears.
3.Jeans - Surprising enough, if you have a good firm bottom sporting along with a tight t-shirt this will bring about the idea to turn men on. Dress up seductively in a black low waist jeans with a tank top tonight to draw him closer to you in lovemaking.
4.Leather Clothing - It is said that leather surely attracts! So to turn men on by seductive clothes wear on leather outfits. Try the latest leather boots or leather lingerie to spice up lovemaking into a night he will never forget.
These are some of the ways to turn men on by seductive clothes you wear. Do not forget to stay confident as that draws a man closer to you much faster!