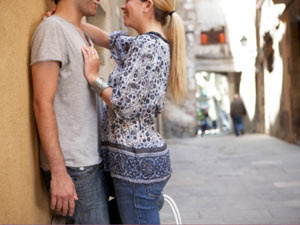 Lovemaking the quick way can be very fun and sometimes more exciting than the normal lovemaking session. Quickie lovemaking can be particularly interesting and useful for busy couples who seldom get any time for themselves.
Though it may not be a complete session, it can be a quick fix to your dull and boring lifestyle. Have a sneak peak at a few quickie lovemaking locations that can be very satisfying!
Kitchen: Sneak up behind her when she washing or cooking, lift her and use support of any strong shelf or sink for support. Just make sure your burning passion does not clash with the hot stove in this particular quickie lovemaking location!
Elevator: Stop the elevator in midway, and try an upright position with her facing the wall. You can take the support of her thighs, while she hold herself up against the elevator wall. Remember to keep your hands away from the elevator button, so that you do not end up opening the doors in your quickie lovemaking frenzy.
Alleys: The show is over and you both are on your way home, when the spark suddenly ignites. Move into one of the dark alleys (if they are not very filthy though!) and try a quick entry in the standing position, with one of her legs wrapped around you.
Office: Your passion towards one chick at office is building and you just see her getting away on one of the highest staircases of your building. Well, take a cue and head behind her for a quickie lovemaking session. She can arch back on the staircase, while you get to work! Just make sure you get back to work soon.
Car: The car may be a little risky, but its well worth a try. Specially, since you need to wrap up this lovemaking session extra, extra fast! Try a doggie position in the backseat or with the lady on top, while you are at the steering well. (but not driving!)
So, the next time you get all steamed up, you know where and which corner to head to and fulfill your need for love!