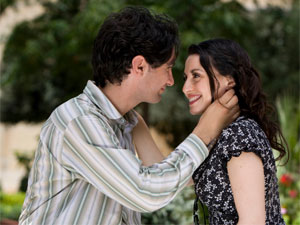 Lovemaking is not limited to particular place or time. If you have a passion to experiment with your sexuality why always go for the traditional way of sensual pleasure and acts? Why to have orgasm on a bed when you can do it outside too? Outdoor lovemaking is an awesome experience as there are grassy fields to make your bedding, blowing fresh breeze to kindle the fire of passion with the cold fingers and a starry sky like an umbrella. The thought itself is powerful enough to make you feel active, alive and free spirited.
Experts say that outdoor lovemaking is more pleasurable and beneficial than indoor lovemaking. Some claim that the only time our bodies are truly at peace is when the sun beats down on us, because the sun and body's biorhythms are the same. It is believed that nature has the unique power of tuning one on from deep depressions. Spring and autumn are the perfect times to engage in delicious outdoor lovemaking.
An outdoor orgasm is one of the best ways possible to renew passion, because it combines several passionate activities into one. Being naked outside elicits deep, primal, wild and uninhibited desires, it is adventurous and can be spontaneous while being playful.
Outdoor lovemaking need not necessarily be the casual orgasm with your partner. Even a masturbation done outside can be special and pleasurable than the usual indoor action. The feel of the elements on your naked body elicits uninhibited passions. When the wind, the sun, the earth and water touches your naked body it will lift you up to the seventh heaven of joy.
The most exciting feature of outdoor orgasm is that it provides numerous opportunities for you to select a wide range of textures from nature based on your moods. It also allows you to have postures of your wish such as on the grass, in the water, bent over a stump, hanging from a branch, lying on the sand, on flat land or on a hill etc. Outdoor lovemaking will enhance your sensations and provide you with the ability to maneuver many different positions and techniques.
When selecting the place you should be creative enough. If you intend only a romantic outing limited to few kisses of caressing, you can select a place where there are other people too. But if you prefer for a full orgasm and not just foreplay with your partner, select a place where only the beauty of nature may peep in to your privacy. Aqua parks, bus stop bench, convertible, downpour, tree shades, forest, garden etc are the best options if you look for an outside location to enjoy sensual pleasure.
Unlike the bedroom libido, outdoor orgasm can long for few hours or even a day long. Cooking together and eating, romantic talks, trying some sort of sensual pleasure experiments like in different positions, ways etc can make an outdoor making love much more delicious. With outdoor making love, the entire world can become your bedroom, providing endless opportunities for enriched excitement and enhanced pleasure. It can be tender and soft or wild and animalistic.