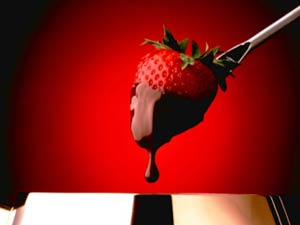 Natural aphrodisiacs are the way to go if you want to spice up your love life. Due to our hectic love lives couples come back tired from work and then they are too tired even for a harmless goodnight kiss. They rush back from work totally exhausted, hog their dinner and just drop on the bed and snooze because they have to rush to work in the morning. What can be done to break this vicious cycle of events? If you are looking to enhance your libido then natural aphrodisiacs could be your messiah.
We are not asking you to take capsules. What if the food you eat could spice up your love life? Here are a few romance tips to use natural aphrodisiacs in your daily diet that could make all the difference to your relationship.
Recipes For Your Bed:
1. Chocolate: The most cliched yet one of the most effective aphrodisiac foods of our civilisation. It works like nothing else does. Chocolate contains cocoa which helps release pleasure hormones naturally enhancing your libido. It is also a great food to lift your spirits and get you out of the doldrums of depression. That indirectly impacts your lovemaking.
2. Tomatoes: Surprised are you? But it is true that sustained intake of tomatoes can increase desire in your body. It relaxes your muscles and that soothes your tired knotted up body. So get ready to eat lots of tomato ketchup for dinner.
3. Oysters: Ever wondered why lovemaking is great on a beach holiday? Well it could have something to do with the sea food and if it does, you could easily imitate the same conditions in the comfort of your home. The very look of oysters have the effects of a natural aphrodisiac. Other than that they contain amino acids that increase the levels of pleasure drive hormones. These hormones in turn get you into the mood for naughtiness. Oysters will work like a spell on your partner so whats for dinner tonight?
4. Cinnamon: Who knew cinnamon cakes and buns could save your relationship? But they will if you take them for a long time. Cinnamon does not work magically overnight like oysters do but you will see results over a period of time. You don't have to use cinnamon only for deserts. Add a pinch of cinnamon powder to some of your main courses as well. They will smell great, taste delicious and give you a secret bonus.
5. Pumpkin Seeds: That is a weird and unappetizing one. But whats the harm if you try it instead of throwing it away in garbage. They contain zinc which is responsible for enhanced fertility and urge for intimacy. You don't need to chew them raw. Just add them to your curries and stir fried vegetables
Natural aphrodisiacs are a great way to get back that lost spark in your relationship. They cost little money and zero efforts.