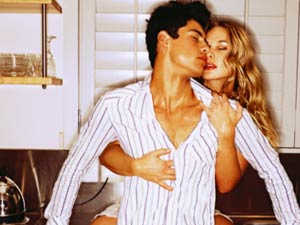 Getting a man into a mood to make love is not a difficult task as men love to see visual stuffs and that alone can excite a man. There are many ways to excite a man as each individual has his own fantasies, likes and dislikes. But trying simple ideas to get a man horny is possible for a woman. So, here are ideas to make a man horny.
Ideas to make a man horny:
Visually: As men are visual creatures, they get attracted to sensual visuals. Try some sensual act like a dirty dance in front of him to appeal a man. Use sensual techniques as men love it.
Strip tease: This is a commonly used idea to make a man horny. Try a slow strip tease for greater impact! Men love to see a woman in such a situation. If you try to strip tease, use your imagination freely. A sensual dance or a song can be followed together to get him in a mood to make love.
Gestures: Sucking your lips in a sensual way while playing a romantic song in the background is fun. To raise the mood to make love, wear a sensual lingerie.
Reveal: A small view of your cleavage works wonders if you want to excite a man. Showing your legs in a short dress is also a common idea to make a man horny.
Be naughty: If you are in a mood for lovemaking but outside like for a dinner, you can get him excited for a session before returning home. Try touching him and his sensual body parts to prepare him for an orgasm!
Feel yourself: Try to feel yourself sensually in front of him. Pull your dress to show your cleavage and feel your body. Try to get close to him and feel him too. Don't let him touch you. The control will end up wild!
Try these ideas to make a man horny and enjoy the orgasm!