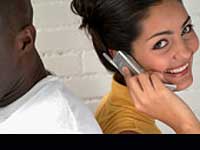 When in love you tend to have different kinds of emotions and when these emotions take place in your life, one cannot stop the feeling of excitement. Lovemaking is one special feeling you share with that certain someone and it sure does make your head swirl around.
In lovemaking, its like a two way street. You have to please your man and he has to please you in order for the both of you to gain ultimate pleasure and satisfaction from each other.
Here are a few lovemaking tips which is helpful for both men and women when it comes to having a good time in bed.
To get the right mood for lovemaking, dirty talking is the key . Here are some ideas for you on talking dirty which might help you and your partner under the soft satin sheets.
1.Before you start on the dirty talking, be confident to say what you want to. Men love to see a confident woman in bed. To arouse a man instantly talk about your body to him. Let him know what you are wearing, if the conversation is happening on the phone. Tell him side by side what you are doing and gradually talk about getting naughty with him.
2.The lovemaking tip is to see if your lover is in the same mood as you. If he is , then entice him straight away. Cyber lovemaking has become very common these days and also cyber lovemaking has out numbered phone intimacy as you get to see each other through the web cam facility. The art of cyber lovemaking and dirty talking is easy, all you have to do is look at him and he will guide you.
3.When you are intimate with your partner , see to it that your lover does not get bored. Make him feel relaxed and comfortable so that he can enjoy every word that flows from your mouth.
4.Being natural is the best lovemaking tip for dirty talking. Talking to him step by step is the way to go, so that your lover can easily follow what you are trying to put across. Some men love the feeling of slow intimacy as there is more time involved and patience always pays off with a good reward.
5.Another lovemaking tip in dirty talking is to catch on to a few words you would use in the bedroom when you are physically under the sheets with him. Groaning and moaning while he talks dirty to you is a plus point to show that you are enjoying it. If you really are, then it will happen normally. Remember don't fake it!
These are some of the lovemaking tips you can do to arouse your partner and give him a time of his life.