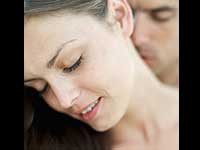 The only way to get a man going is through his senses. Get your loved one crazy about you by following these simple lovemaking tips for a better night. You simply have to play with his mind to get him thinking about you and simply making him want more from you.
These lovemaking tips to get a man in your arms is easy to follow and best for those women who play hard to show love to their partner, so here is how you can turn your man on psychologically.
1.The first thing you should know is to know the man's mind. A guy has to turn on in his mind at first to show he is interested in making love. Turn to food to turn your man on. There are certain foods that turn men on. Foods like chocolates, caffeine, avocado etc. Another option is red bull.
2.It is also fun to take part in fun activities together. This will of course arouse any man. Fun games in the bedroom will help turn a man on and thus will help lovemaking be easy. These lovemaking activities will be a good idea as it will improve love life.
3.Another lovemaking tip is to do something out of the box. It is said that men turn on easily when they experience fear. Go on a rollacoaster ride or see a horror movie together to get into that mood of love and romance.
4.The best and easy lovemaking tips is to schedule work outs together. This will definitely help to bring you both closer. An exercise environment only with the two of you present will help to turn your man on psychologically.
These lovemaking tips to turn your man on psychologically will actually work if planned well.