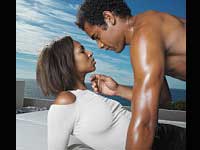 Lovemaking is all about two people who are carelessly in love with each other.
In a marriage, the husband and wife makes love because they care deeply for each other and this is one way of showing their undying love.
Lovemaking, when intimate, makes the relationship grow stronger and thus provides complete satisfaction to both the partners.
To make your lovemaking more intimate and emotional, here are some beautiful and sensual lovemaking positions that will make your night wild.
1.Crossed Legs - In this position,the man sits in a crossed leg or lotus position. The woman sits on the man's lap with her legs wrapped around his waist. They are face to face with each other, offering more intimacy and emotional attachment during lovemaking.
2.Spooning - This is one romantic position where the woman and man feel deeply connected. The man cradles his woman with his entire body showing her security and and intimate lovemaking. This is a position where there can be a lot of touching, soft kisses and rubbing of each others bodies when in intimate lovemaking.
3.Missionary - This is one of the most intimate lovemaking positions. It will surely enhance the emotional being of the partners. Here in this position, the man is on top of the woman, looking deep in to her eyes. To make the intimacy more powerful, the man can move his legs to the outside of hers or fully envelop her body.
4.Shouldered Love - This is another type of intimate lovemaking where both the partners feel the joy of looking into each others eyes. The woman places her legs on the man's shoulders while she lies back and he penetrates into her gently sending across an emotional feeling.
5.Doggy Position - This is one of the greatest positions that every couple enjoys. The woman reaches an extreme level of satisfaction and thus gets multiple orgasms. It also involves emotional intimacy between the couple.
These lovemaking tips will surely enhance your love life, making it wild and long lasting.
It will also improve your emotional attachment with your partner.