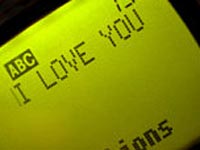 Lovemaking is an art that has to be performed perfectly well when its comes to a man and woman. If you must know that the art of seduction to turn on a man is to speak sweet things to him. These seduction tips through text messages is one way to make your man want more of you in the bedroom for lovemaking.
These are some of the seductive text messages to turn on a man tonight. So get ready ladies and give him a time of his life by your sweet voice!
Here's seduce a man through a text message into the art of lovemaking.
1.The first thing to keep in mind to turn a man on is to be 'original'. Being yourself when it comes to lovemaking is the best way to make it happen! To seduce a man through a text message, all you have to do is to follow your heart and think of a good way to turn your man on. The best way is to first know what you are wearing on, tell him exactly how you feel and tell him that you want him down and dirty. Send across seductive text messages to him like,'Hey Baby, you know what Im wearing on right now.' or you can send him something like,'Sweetheart its too hot to put my clothes on.'
2.When you want to know how to seduce a man through a text message, the best way is to find out if he is in the exact mood to turn on the heat. At first do not start sending him seductive text messages because he might me in a meeting or on an important call or even with family. Generally find out what he is doing and then start with the seductive talk. To set him in the mood, you can start by telling him you need a body massage and only he can make you feel better once he lays his hands on you. You can also make him fell the fire by explaining to him the last time you made love to him , tease him through the seductive text messages and you will surely land in for a wonderful lovemaking session.
3.Once you are following up on how to seduce a man through a text message, go on to be more direct in the conversation. Tell him that you want him now and that you feel like riding him slowly into the deep blue sea. Play with your seductive text messages in the form of adjectives so that he gets the idea of your dirty talk.
These are three best ways on how to seduce a man through a text message. Use your own imagination with seductive messages and give him a night he will never forget.