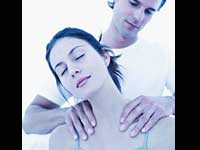 Couples who are in love can spice up their bedroom tricks and follow certain lovemaking tips that will help bind the love and make it strong between the two of you.
Other than the juicy parts of her body there is more to it in your woman. Find her women erogenous zones. As her man you need to explore each and every part of her body to keep her wanting more from you.
Here are some hidden facts which you can try out in the bedroom to grind your lady love and make her moan in pleasure. Women erogenous zones is something a man just cannot ignore.
1.Her Back - Let your lady love lie on her tummy and start with a good back massage. When she is all relaxed, slowly move your tongue along her spine. This will send shivers down her spine as soon as you place your hot tongue along her back. Small pecks will be amazing too. This is one lovemaking tip which help women turn on.
2.Her Hair - Women take a lot of trouble in maintaining their hair and keeping up with the latest hairstyles. To turn your woman on and keep her wanting for more, massage her head gently by running your fingers through her hair. This lovemaking tip will make her heart race.
3.Her Palms - For centuries when one goes on a date, the man will always kiss the girl's hand. This has always been one way for women to get turned on. The palms of her hands is an extraordinary erogenous zone that when kissed will give her immense pleasure. To easily turn your lady love on, gently run your finger in circles on the palms of her hand.
4.Her Ear - The best lovemaking tip to make her get turned on is to nibble on her earlobe. This will immediately send her to a different world where you can keep her engaged only to you.
5.Her Thigh - The inner thigh is the most sensitive part of a woman. It is one of the best erogenous zones in a woman. Gently nibble and lick her inner thighs to show her how much you love her body and adore it. Tease her with your kisses before you go to her love canal.
6.Her Knees - Many would not believe, but it is true. A woman can go weak in the knees when her man touches it. Gently run your hand at the back of her knees. It may not be a good turn on for you but for her it is heavenly.
Explore her erogenous zones and make her remember that you can make love to her the entire night.