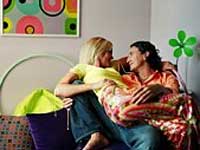 You are all turned on and the heat in the bedroom seems so hot around you, but there is one thing that feels like an iceberg in your presence. It is your man who does not have the feeling of making sweet love to you.
To arouse your man and turn men on grab the attention of his love, you should know how to get him into the mood.
These lovemaking tips to arouse your man will help you achieve a passionate night of sweet love.
To arouse your man and turn men on may sometimes be an easy task and at times can be difficult too for there are many reasons why he may not have the feeling of working out on you.
To arouse your man, follow these lovemaking tips to stir your boiling feeling around him.
1.To increase your love life you have to take good interest in showing him that you want to make it a passionate night. You can drive your man wild by teasing him now and then about his mood. Make him feel passionate by sitting on his lap and rubbing yourself against him.
2.To get things heated up with him, try the little pecks of kisses. Slowly pull away your kisses when he comes forward to kiss you. This will get him aroused and make him want you.
3.Walk into the bathroom when he takes a shower and rub some soap on him gently. This will instantly make him turn to you and hold you in his naked arms.
4.Do a sizzling dance in front of him along with a strip tease performance . This should come unexpected and he will definitely be surprised by your action.
5.When he is sitting down and watching television or working tiredly on his laptop, slid behind him and give him a gently back massage. Work your way through by throwing your legs on his lap and begin to kiss and hug him.
6.You can arouse your man by nibbling at the back of his knees. It is an unknown erogenous zone which will get him goose bumps.
Try out these seductive lovemaking tips to get your man into the mood and make him beg for more. These tips will turn men on in no time feeling fully satisfied.