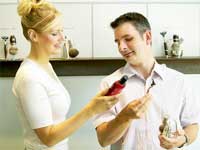 Thinking of getting rid of scratchy muff for a sensual experience. Here is how you can make a simple act the most tantalizing step for hours of spice up night. So get all the equipments to loose the 'down there bush' just to welcome the dark hot night.

You must have shaved a million times, but have you tried to do the tender act to your partner. Be his/ her private salon expert and treat them with high royalty. To start with announce the time and venue a day before the event. Let her keep anticipating for the hour. When the cold breeze gushes in the night take her to the all decorated venue. Do not forget to burn th scented candles they add magic to the whole process.

Trim it fine
Peel each others clothes or try to strip tease to get into the mood. Do not rush for the climax scene as soon as you see each other naked. Take time for you are here to treat your love with more comfort for your own selfishness. Trim her hair before shaving as this can save a lot of time and frustration.

[an error occurred while processing this directive]

The best position to trim it well is by asking her to stand with her legs apart. You can even make her sit in a comfortable position. Run the scissors or electric hair trimmers criss cross slightly teasing her whenever you can.

Time for making love in water
Have a warm bath together, cuddling and caressing each other. Warm temperature opens the pores making shaving easier. Never dry shave your pubes! If you fail to use this tip then pain and irritation will surely follow. Use shaving cream or gel to lather the pubic area. Choose the right kind of cream, because you may be allergic to some. Buy shaving cream for sensitive skin. Men usual master the art of shaving as they have been doing from thy saw a tiny hair grow on their cheek. So its not a problem. However for women here are some tips that you have to follow, shave to the same direction the growth of the hair. Avoid scraping the same area over and over again, at the most 3 strokes should do the work. More than this translates into irritation and razor bumps. Stretch the skin gently to reach the difficult hairy spots.

You can clean shave the pubic area or try a mastered pubic hair style. There are many different ways to style your pubes. Think about it before you start and be as creative as you desire. Shape it in way to tease her/ him every night.

Don't forget to Exfoliate
Do not forget to clean and pamper her skin after shaving. The best way is with a loofa sponge and baby body wash, it is mild and rich in moisturizers and vitamins. As the skin is very sensitivity, rub very lightly with the sponge to prevent skin irritation. This will help in removing anything that might clog the pores. This also helps in getting rid of unwanted irritation and ugly red bumps.

Pamper Her
After the task is completed, rinse and pat it dry. Now it's time for the treat for all your hard work. Ask for it rather order and she/he has to obey for all the care. So bump in for hot sexy moves.

The well knit plan is incomplete without moisturizing the freshly shaven pubic area with baby oil or Aloe Vera. Try to avoid moisturizers that contain fragrances and colors, as it may cause irritation. You can even powder the area with cornstarch for more comfort. Avoid using products that include baby powder or talc, as it can cause cervical cancer in females. So happy shaving, click back again tomorrow for more sexy night tips.