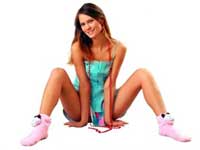 No admission without permission. A majority of girls hold this placard when approached with an intention of lovemaking with them. Even for most of the die-hard boyfriends the sexual pleasures remain a denied zone. A fondling or even the simple presence of the male mate may be enough and more for many women as their sexual drives are not hot plates always, contrast to male sexuality. But for men love and romance are intertwined with physical pleasures. Plunged into gloom, guys suppress the sexual desires within them. Don't worry, is your girl stays off from sex with you, you can rape her, but with her permission. Now, I swear that you will ask me few questions, Is it possible to rape a girl with her permission? Or If with permission, how can it be called rape?

[an error occurred while processing this directive]

What do you mean when uttering the word 'rape'? Rape, as the common notion goes, is the forced sexual act. Overpowering a girl to have sex with her is rape. Have you ever asked a strange girl that 'Can I have sex with you?' Or 'May I rape you?' Don't turn back to past to remember if such an incident has happened in your life. But see your face in the mirror. If ever you have attempted such a question, for sure you will have cut marks or sandal heel scars on your face. Erogenous zones of girls remain locked for most of the guys, but smart enough boys always find out that the keys of female erogenous zones are vested with them, and if approached with the right key, no doors of pleasure will remain closed before him.

Raping your girlfriend or any woman is an unethical, immoral and inhuman act. But what about indirect rape. Raping a girl doesn't mean like in movies you jump over the girl and tear her dresses and at the peaks of her helplessness enjoy the sexual pleasure when she lies beneath you as a tender deer before a deadly lion. On the other hand if you are skilled enough to blossom the right mood in her, if you are naughty enough to make her as hot as iron in fire, she will have no ways left before, other than submitting herself to you even though her inner consciousness warn her about the dangers of the act. Most women stay off from men and sex just because they are aware that the after effects of the entertainment will only affect them in form of a life germinated in her womb.

How to rape your woman indirectly? A lot of patience and skills are required to be a master in the art of indirect rape. The most important is to know your girl well before you attempt this. Some girls allow men to touch their body but always outside a border. Some of them allow only the verbal contact or relationship through communication. If your target allows you to touch her, you are half succeeded. If your relationship is limited to the realm of words, still do not worry, rays of hopes are not fully faded.

As the first step try to create a situation where you are alone with your lady. Begin the conversation with some general topics and gradually spice it up, but moderately. Whenever you feel that she is restless change the tone and topic. If you are allowed to touch her, try to sit as near as possible to her. Take her hands in your hand. By your look, by the breath, by the words and by your feather smooth touch invoke a sexual atmosphere in the room. Never make a haste move to kiss her or feel her body. Massage her palms when you talk to her. Let her feel that you love her and gain her trust. Slowly... very slowly to your wonder, she will collapse into your hands willing to travel to the unknown world of sexual pleasure, unmindful of the dangers and the inner mind's warnings. Now... once you have won the battle, it is you to decide like a proud king what to do with the surrendered one...