With the dawn of the Twilight era, the most horrifying creatures the vampires have suddenly become the most sexiest. With Robert Pattinson and Kristen Stewart almost immortalizing the character of Edward and Bella in the series. People have taken a huge liking for the vampires and their romance.
Perhaps the love making scene in the Breaking Dawn is one of the most fantasized scene by many. The wild, sensual and insatiable sex between Edward and Bella is something couples crave for, when in bed. This kind of lovemaking can actually be tried out in reality and we will tell you how!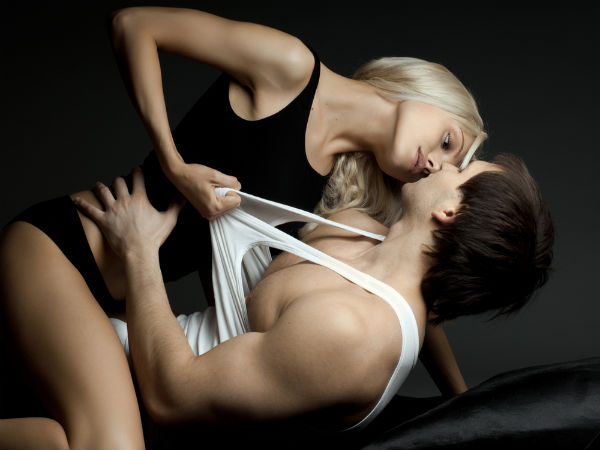 So ladies, heat things up tonight with some vampirish brutality and seduce your partner with these tricks. Try out these tips for wild and sensual vampire sex:
Light candles: Setting up the mood is the key to successful lovemaking. So, turn off the lights and light some seductively aromatic candles in your bedroom. The light should only be enough to cast a sexy glow on you and your man.
Be in control: Take the control over your man. Order him around to do things and pounce over him to initiate a wild and sexy foreplay. Your man will love you to have you all over himself.
Wear red lingerie: Men are attracted towards colour. So, wear a sexy, red hot bra or a negligee to attract your man towards you.
Rip off his clothes: Show out your wild side. As the vampires do it. They do what they want. So, pull down his pants and unbutton his shirt as if to tear it off his body.
Work on his neck: The area around the neck is extra sensitive. Use your tongue to stimulate your guy in this area. Use your fingernails to scratch him on the neck and then slowly lick the place with your tongue.
A sexy oral: Mix pleasure and pain. Give him a wild blow job which he will never forget. Bite his penis gently with your teeth and then suck on.
Maintain the pace: Ride on him and have fast and intense sex. Slow down after a while. Then again pace it up when he is least expecting it. Your guy will be thrilled.
Try out these hot tips on your man tonight and watch him go carzy with pleasure.