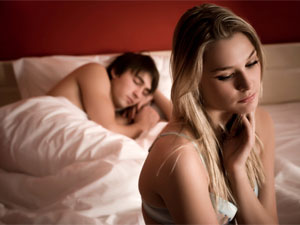 Does your man shun from touching you? Do you feel that he is avoiding even an affectionate hug, because he is not too comfortable about going to go to bed with you? Well, face it, as your hubby seems to be losing interest in making love to you!
You might rack your brains and wonder if he is having an affair or if there is some other reason. The reasons might be many, have a look at few common ones.
1.Men might feel that there is lack of fun in the bedroom. They may want to try new things and new passions. Exciting lovemaking positions can rekindle passion within the bedroom.
2.You gaining too much weight after marriage or kids, is yet another reason. A mass of ugly fat bulging out of your body instead of sensuous curves, is a turn off to any guy. Cut down your fat and flaunt beautiful curves to attract your man towards you.
3.Due to childbirth, your genital passage might have have become too loose. So, lovemaking might not be pleasureful. Practice exercises to tighten passage and get him to indulge in more lovemaking with you.
4.You may have put away lovemaking many a times, when he has approached you. This might have upset him and led him to believe that you are no longer interested in bedroom pleasures.
5.Too much work at office, might leave him too tired to indulge in lovemaking with you. Set the mood before he comes back. Be a slave to him, pamper him like a baby. This will make him relax and enjoy a good lovemaking session with you.
6.If you hubby is taking anti-depressants, he might be losing interest in lovemaking. Slowly wean him away from such medications and make him feel happier in other natural ways. This will make him feel better and will initiate him to perform better in bed.
Remember that a man's need for sex is more when compared to you. So, the next time he approaches you, do not neglect him. After all, your behaviour might be the biggest reason for his loss of interest in lovemaking with you.