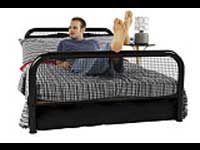 Lovemaking and men go hand in hand. For some men, it is all that they can ever think about. Getting intimate with their partner is fine and normal but talking, walking and dreaming about sex isn't. It sometimes makes one sick and frustrated. Here are a few of the lovemaking myth men believe in.
According to Dr. Aaron Carroll from the Indiana University, he says that these points stated below are what men believe in about lovemaking myths.
1.Single guys vs married men - It is said that single men enjoy a better lovemaking life than a married man. However, this is not true because according to the study and research , married men seem to get more action in the bedroom that those who do not possess a loving wife.
2.Men and Lovemaking- If you ask a few women about men and lovemaking, they would instantly say that men cannot do a night without sex! The lovemaking myths is that men think about getting intimate with their partner every 7 seconds which is sometimes bad for the relationship as it can destroy the unity when the love becomes only physical.
3.Men & Reproductive Organs - Guys believe that the bigger their feet the bigger the size of their private part. This is uncanny and not true at all. The lovemaking myth men believe in about their foot and penis being of the same size was proved to be wrong in the study that was conducted. The study was done on more that 3000 men and no correlation was found that both the size resembled each other.
4.Semen with calories - There are some women who love to swallow the man's juice for there is a lovemaking myth men believe in that their semen contains a lot of calories and protein which is healthy to consume. It is true though that the semen of the male consists of vitamin C, water, nutrients, calcium and magnesium in a very less quantity so therefore semen containing calories is not true and it will not let the woman put on weight even if she has to swallow!
These are some lovemaking myths men believe in today.